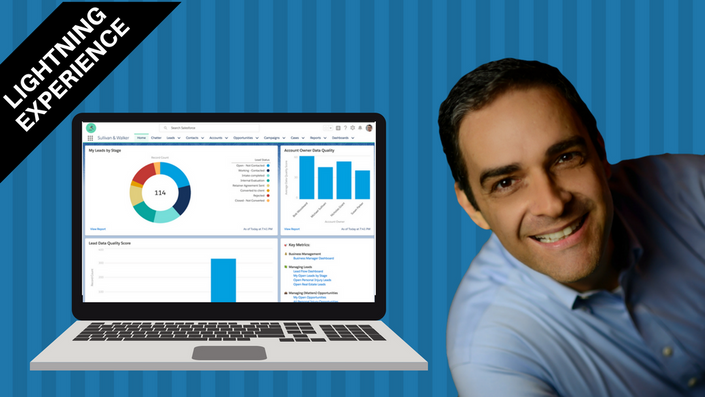 Lightning Experience - Masterclass
What is Salesforce? What's a CRM?
What is Salesforce Lightning Experience?
"Where can I find Salesforce Training for End Users?"
...I get this question all the time!
Every day I hear from regular business people...the folks who are in Sales, Marketing, Customer Service and Operations.
Here's what they tell me:
"I'm expected to use Salesforce, yet I haven't been trained!"

"I'm struggling to track prospects, customers, tasks and deals in Salesforce. When I ask my manager for help...he asks me to talk to some incompetent colleague who just shrugs his shoulders at me."

"We used to be on Salesforce Classic...now my company rolled out Lightning Experience. No training. Nothing. I'm lost. Instead, I'm using Excel and I hate it!"

"I'm sick and tired of searching Google and YouTube..only to find that most of the materials I come across are for Administrators and Developers. What about the end users?!"

"I'm starting to worry that my Salesforce skills are impacting my career. I'm concerned!"

"I need to change the trajectory of my career. If I don't learn Salesforce I'll never find another job."
I hear you. I get it.
...and that's precisely why I decided to create this Salesforce Lightning Experience Masterclass!
You need coaching, hand-holding and structure. The free content that you find online through Google and YouTube is great...but most of it is geared towards Salesforce Admins and Developers.
WHAT ABOUT THE END USERS?
I'm going to help you through small, focused and bite-size lessons so that you can learn how to use Salesforce Lightning Experience at your own pace, from anywhere!
Here's what we're I'm going to teach you:
UNIT 1 - NAVIGATING SALESFORCE
Using Search

Personal Settings

Help Portal

AppExchange

Salesforce Trailblazer Community

Tabs

Main Screen
UNIT 2 - MANAGING LEADS
Searching for leads

Pulling lists of leads

Creating new leads

Updating existing leads

Merging duplicate leads

Logging tasks & calls against leads

Converting leads

Reassigning leads
UNIT 3 - WORKING WITH CONTACTS & ACCOUNTS
Understanding the relationships between contacts & accounts

Searching for contacts & accounts

Pulling lists of contacts & accounts

Creating new contacts & accounts

Updating existing contacts & accounts

Merging duplicate contacts & accounts

Logging tasks & calls against contacts & accounts

Reassigning contacts & accounts
UNIT 4 - TRACKING OPPORTUNITIES (PIPELINE MANAGEMENT)
Understanding what opportunities are, and how they are different from leads, contacts and accounts

Searching for opportunities

Pulling lists of opportunities by stage, amount, close date, owner

Creating new opportunities

Adding products to opportunities

Working with Opportunity Teams

Updating existing opportunities

Logging tasks and calls against opportunities

Reassigning opportunities
UNIT 5 - MANAGING CAMPAIGNS
What are campaigns?

Searching for campaigns

Pulling lists of campaigns

Creating new campaigns

Updating existing campaigns

Adding campaign members

Tracking campaign member status

Logging tasks and calls against campaigns

Linking campaigns to opportunities to track ROI

Reassigning campaigns
UNIT 6 - WORKING WITH CASES
What are cases and why should I care?

Searching for cases

Pulling lists of cases

Creating new cases

Updating existing cases

Logging tasks and calls against cases

Reassigning cases
UNIT 7 - COLLABORATING WITH CHATTER
What is Chatter?

How is Chatter different from email?

Chatter visibility (Who sees it?)

Chatting on records

Chatter groups

Topics

Chatter notifications

Adjusting your Chatter notification preferences

Chatter on reports & dashboards
UNIT 8 - REPORTS & DASHBOARDS
What is the difference between a report & dashboard?

What is the difference between a list view and a report?

Who sees what data?

Who can access my reports?

How to find & use existing reports & dashboards

How to modify existing reports & dashboards

Understanding report types

How to create new reports & dashboards

How to export to Excel...and why you shouldn't do it!
Course Curriculum
Introduction
Available in days
days after you enroll
Unit 1 - Navigating Salesforce
Available in days
days after you enroll
Unit 2 - Managing Leads
Available in days
days after you enroll
Whether you are brand new to Salesforce, or simply new to Lightning Experience, this class is meant for new business users who need to learn how to use Salesforce to track people, deals, tasks, calls, to-dos and more.
Curriculum includes:
Navigating Salesforce
Managing Leads
Working with Contacts & Accounts
Tracking Opportunities
Managing Campaigns
Working with Cases
Collaborating with Chatter
Reports and Dashboards
Every course you take here is special
THESE COURSES WERE DESIGNED TO BUILD YOUR SALESFORCE SKILLS & BOOST YOUR CAREER!
---
🏆 Build Salesforce Confidence
From the very first lesson, you'll be learning how to use Salesforce like a pro. Follow up with your prospects & customers like never before.
🔍 Step-by-Step Help
Watch the videos. Download the PDF workbooks. Ask & answer questions in our community. You'll get all the help you need, when you need it. And you're gonna love it here.
📱 Anywhere Access
Learn when and where you choose. Grab the beverage of your choice and dive in!
🎧 Learn From a Pro
I'm a Salesforce trainer, blogger, podcaster, author & MVP with over 20 years of corporate training experience.
☁️ Salesforce is Easy
Truth: Learning Salesforce is all about understanding how to find the data you need quickly and easily. Give me a chance, and I'll show you exactly how easy it can be!
💛 Made with Love
I get why you are struggling with Salesforce. I've been there and I've helped thousands of other business professionals learn how to use Salesforce without any pain or drama.
Your Instructor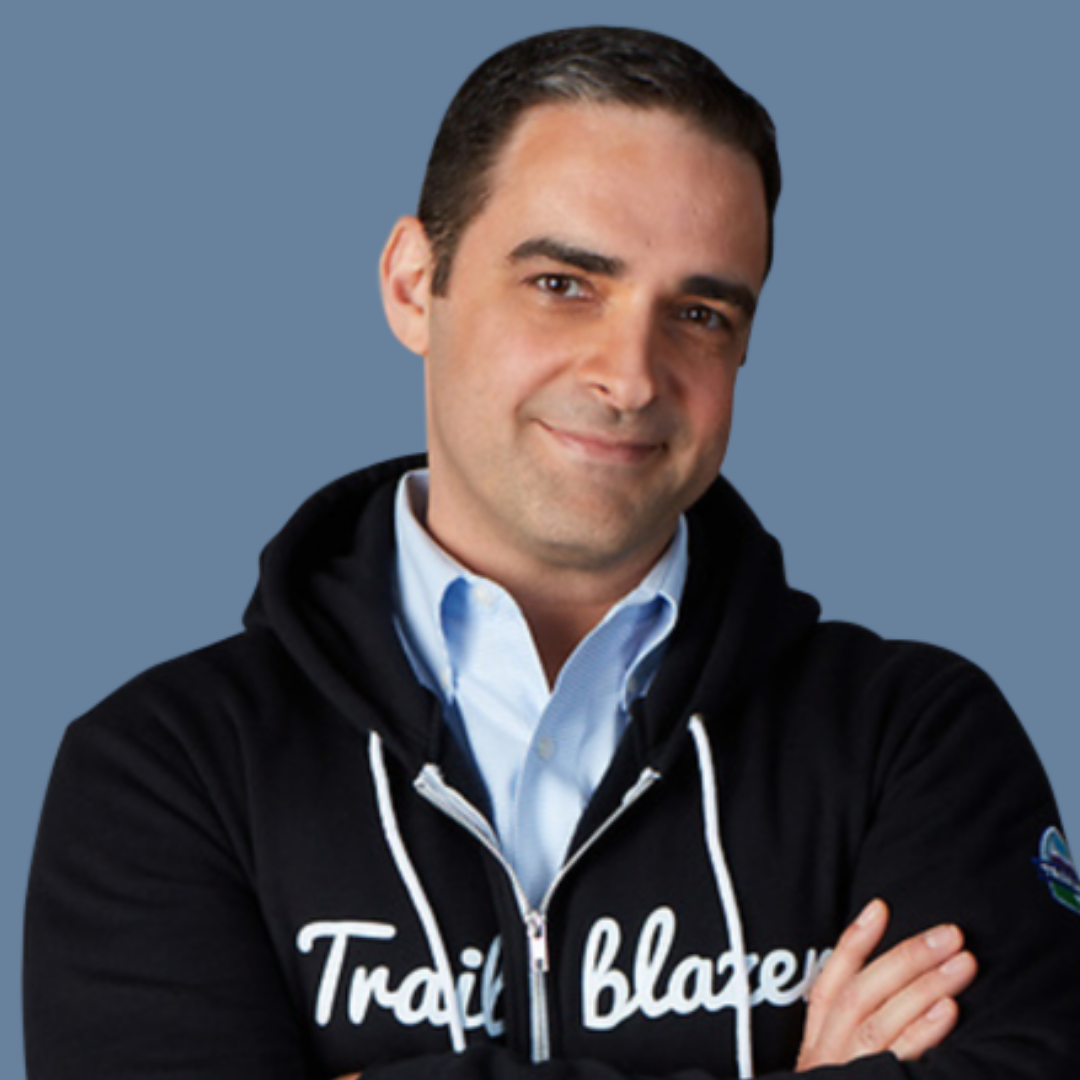 I am a Salesforce trainer, consultant, blogger, author, Salesforce User Group Leader and CEO at Brainiate.
On paper, I'm an attorney - although I'm currently retired from practicing law.
Today, I help organizations to "make Salesforce easy" by training employees, identifying areas to improve the existing Salesforce configuration, and sharing best practices to help organizations get the most out of the Salesforce platform.
Course Curriculum
Introduction
Available in days
days after you enroll
Unit 1 - Navigating Salesforce
Available in days
days after you enroll
Unit 2 - Managing Leads
Available in days
days after you enroll